Posted on 11th November 2023
VirusTotal, the richest and most actionable crowdsourced threat intelligence suite on the planet, and Airlock Digital, a renowned innovator in application allowlisting, are delighted to announce a new strategic partnership to empower Airlock's customers to make informed decisions by combining VirusTotal's intelligence with Airlock Digital's cutting-edge application control capability.
Through the integration of VirusTotal's Intelligence into Airlock's Intelligence Cloud framework, organizations will gain enhanced visibility and be empowered to make better trust decisions. This powerful collaboration enables Airlock's customers to leverage real-time threat intelligence, providing a comprehensive view of potential risks and enabling proactive mitigation.
Furthermore, the integration of 'VT Augment' in the Airlock console offers valuable metadata such as related indicators of compromise, execution graphs, and attribution information for files executed with-in their environment. With this wealth of information at their fingertips, organizations can strengthen their security postures and respond effectively to emerging threats.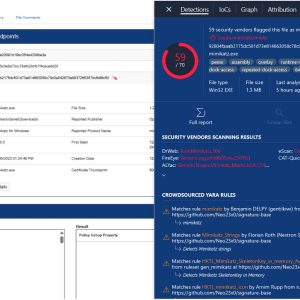 "We are committed to continually improving our product, services, and understanding of our customers' needs to simplify allowlisting," said David Cottingham, Co-founder & CEO of Airlock. "Integrating VirusTotal into our product allows us to deliver enhanced value and insights to our customers. We are thrilled about this new partnership with VirusTotal."
Existing Airlock customers will not need to perform any actions, the change will be a seamless transition for them.
"Our vision has always been making a safer world through collaboration between members of the security industry, researchers and end users of all kinds", says Vicente Diaz, Threat Intel Strategist in VirusTotal. "Today we are excited to contribute with world-class crowdsourced intelligence to help Airlock customers stay protected."